Our Drill Rods are made using cold drawn seamless tubes of premium grade steel. The threading is done using a CNC machine. The tubes are hard chromed to achieve world standard accuracy. We ensure that the material composition and specifications are as per the client's requirement.
ENQUIRY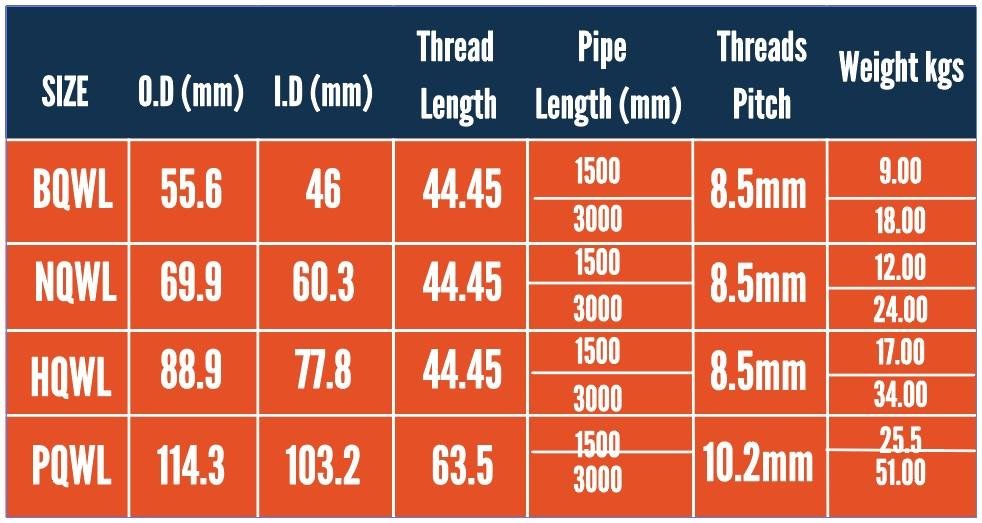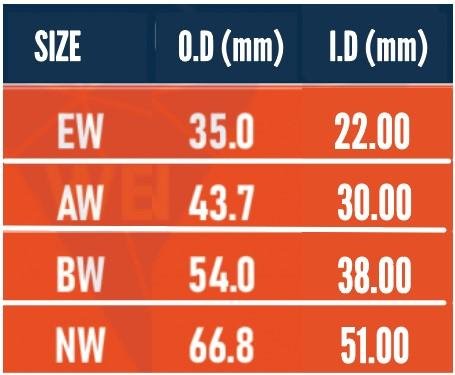 CASING TUBE
Casing Pipes are required in order to maintain the hole wall to the depth desired during the drilling operation. Used in poor ground conditions, casing pipes are used to safeguard the internal space of the hole.
"W" & "X" SERIES
"W" series casing tubes are flush jointed (without a coupling) internally and externally, with an integral pin and box thread.
"X" series casing tubes are flush coupled. They have a box thread at both ends and include a pin to pin casing coupling.
Casing couplings may be replaced when threads are worn or damaged and can be supplied separately.
METRIC SERIES
They are flush jointed as well as flush coupled. Metric casing tubes are thin-walled, providing light-economical drill string and offer a wider range of dimensions than the DCDMA-BS casing tubes. This means less reduction of the hole diameter when the hole is cased.
The standard effective lengths are 3.0 & 1.5 meters. Other lengths may be manufactured upon request. All casing tubes have right-hand threads. Left-hand threads can be manufactured if requested. Our Metric and DCDMA-BS casing tubes, "W" & "X" series, are manufactured from the best quality cold drawn seamless steel tubes with the high tensile strength to withstand heavy stresses. Straightness is more than 1:1800. They are in accordance with ISO 3551-1.1992